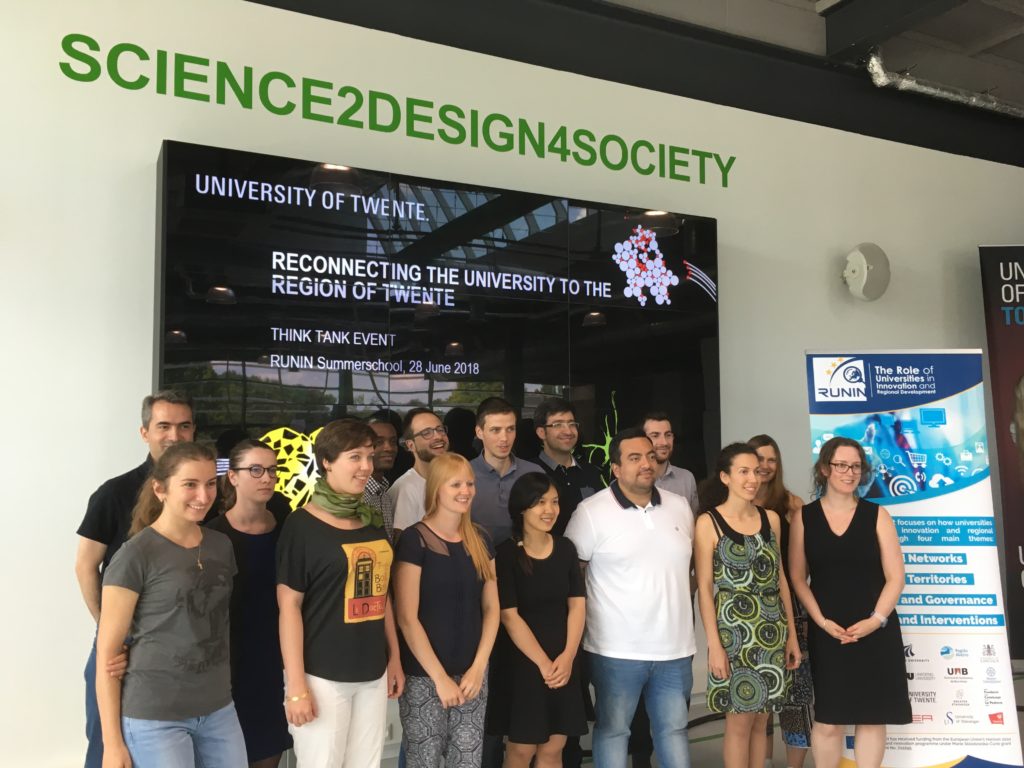 On June 25-29, 2018, a RUNIN Summer School headed by Dr. Paul Benneworth was hosted in Enschede, the Netherlands. There, the RUNIN early-stage researchers (ESRs) and their supervisors delved into the complex relationship between universities and their societal stakeholders in the Twente region. Here is an overview of the Summer School from a visitor's viewpoint.
Well, first thing comes first: I am not a RUNIN ESR, so you may guess that I am pretty much of an outsider who audited the Summer School. By the time I stepped into the Summer School routine, I had been studying the EMJM Research and Innovation in Higher Education (MaRIHE) for almost two years. When I joined the RUNIN academic family for a wonderful 5-day journey, I found the proof that a joint effort can move mountains. Below, you will see how!
A fusion of theory and practice
The Summer School agenda was a healthy combination of theoretical and practical input provided by local public and private organizations and very much applied output produced by the participants. At the very early stage the problem zone was framed by the Twente Board and Kennispunt Twente, followed by a range of engaging lectures held by researchers from the University of Twente and other organizations involved into the  RUNIN project. Apart from sharing key concepts on universities regional engagement, the lecturers equipped us with practical tools to approach the issues between universities and their societal partners in the Twente region. I found the practical part of the Summer School even more exciting. It suggested a lot of collaborative effort, e.g. conducting group interviews, hosting science café round tables, creating various media products at the local public broadcaster 1Twente, etc.
"I like standing still, but that's just a wishful plan…"
from No Roots by Alice Merton
Standing still was definitely not in Dr. Paul Benneworth's mind when he was designing the schedule for the Summer School, and as he once confessed in one of the last conversations with me: "The idea was to put you [the participants] under pressure." The pressure came from a variety places trailed with meeting different people and accomplishing loads of tasks. Each day of the Summer School required our presence at various venues, what, again, resonated with the core idea of the School to bring the universities and their different societal partners closer. We were introduced to the widest possible circle of stakeholders from Regio Twente, University of Twente, Saxion University of Applied Sciences, 1Twente as well as the representatives of local businesses and NGOs. Enschede Town Hall was a crowning venue for presenting the findings and conclusions of our group research.
When unity is the key
As I have mentioned before, I had to squeeze myself into a well-established academic family. I was fortunate enough to be placed in a group of passionate ESRs who were very open to suggestions and eager to help and navigate me once I started straying away. It was a nice feeling of experiencing new empowering dynamics of a different setting. What added more to my excitement is the real applicability of the suggested tasks. It was a great pleasure to hear from the chairman of the Twente Board, Geert Braaksma, that our joint work at the Summer School is valuable to them and they want further collaboration for the advancement of the Twente region.
Having fun with grace
Apart from attending lectures and seminars, doing a lot of group work, talking to people and lots and lots of reading, there was a place for some quality time spent outside. Our merry company was welcomed at a typically Dutch restaurant where, to the surprise of many and mine as well, we found out that sweetbread has nothing to do with "sweet", let alone with "bread". If interested, take your time and have a look at this. The gemstone of the out-of-school activities was a trip to Hof van Twente Wine Estate, a small cozy winery where I clinked glasses of good wine with people more times than ever before.
Hold on, good people. You've got to do some homework
Unlike in my previous experience of visiting summer schools, this one has left a veil of follow-up assignments. They allowed us to reflect upon what had been done during the Summer School as well as to stay in touch and keep working together. I am happy to know that the homework will not be considered as an exercise to train certain skills but as a real product that can be further used for the good of the Twente region.
I understand that some of the highlights, that I have found unusual or inspiring during the RUNIN Summer School, might seem trivial for somebody else, especially for the so-to-speak insiders of the RUNIN routine, but I hope that all these good traditions and practices the RUNIN project has will travel well and be shared further beyond this project.