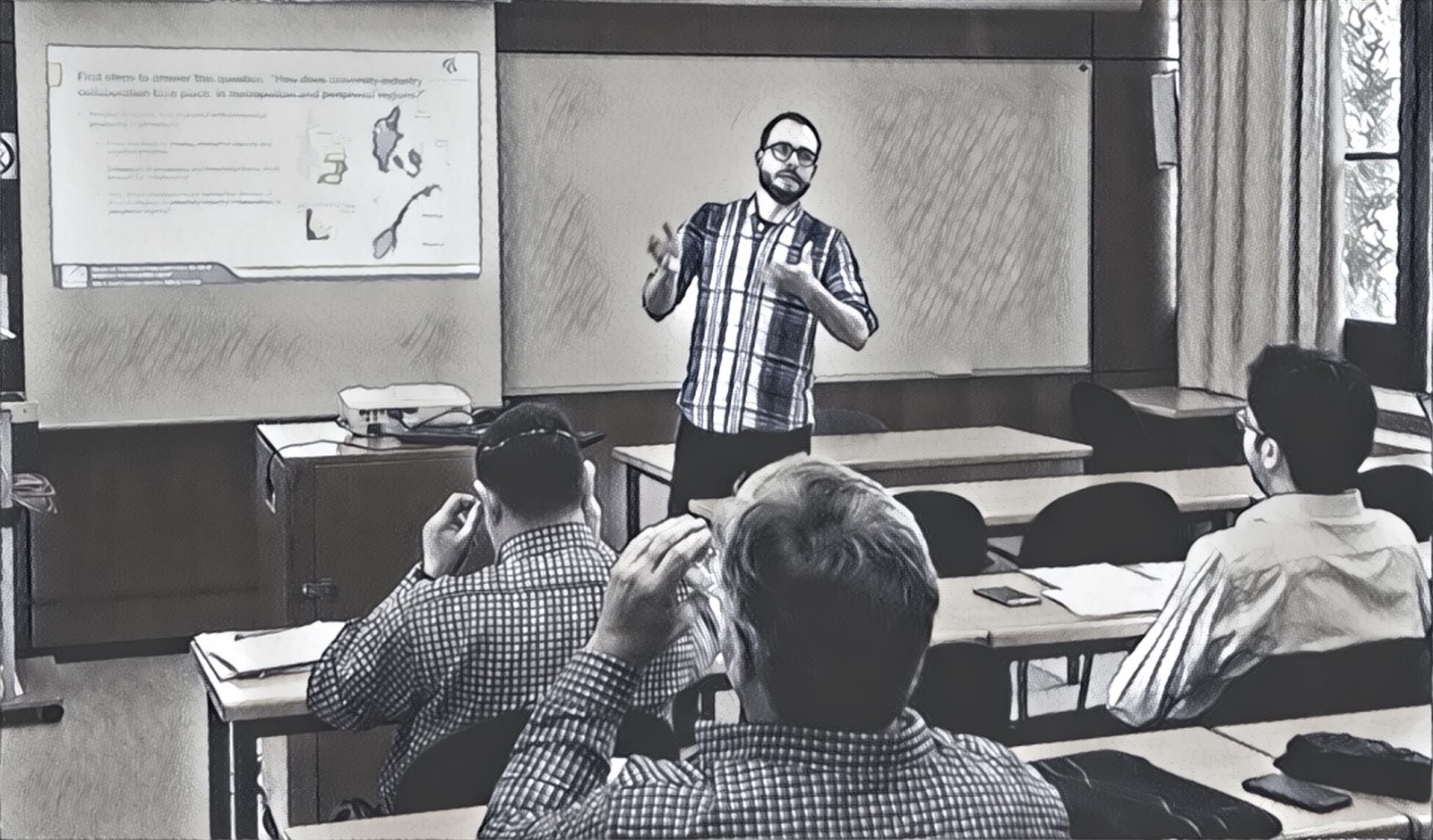 Presenting a working paper at an academic conference is not an easy task. With this post I intend to provide a few ideas on things that work well, and not so well, for those PhD candidates who are just starting to present their work in conferences. Among these, the willingness to be open to the inputs coming from fellow researchers, whether junior or senior, is crucial. These ideas emerge from a recent experience: this January I participated in the DRUID Academy conference 2018, in Odense, presenting the working paper Finding your ideal (foreign) non-academic partner: Implications for university-industry collaboration, in peripheral and metropolitan regions? Despite the fact that DRUID Academy provides a welcoming environment for PhDs who, like me, are presenting work-in-progress papers, I still felt insecure, and committed some mistakes. So, here there are five tips for early stage researchers:
1. Be proactive in asking for help.
Engage in multiple revision rounds with your supervisor. Let outsiders have a look at your draft. Many voices will help you develop a stronger paper, prior to the conference. I did not go through enough revision rounds with my supervisor, nor did I show my work to external readers. As a result, some of my arguments appeared unclear to the conference participants. This could have been avoided through more feedback.
1)2. Be careful with your other commitments.
A myriad of tasks popped-up here and there, challenging my ability to dedicate time to the working paper. Just to mention a few: other papers, teaching and student supervision, training courses, filling administration forms… and social life! Hence, try to balance compromises.
3. Be passionate, and train this passion
Emotions, if well managed, are a useful tool. They help convey powerful messages, and avoid unengaging speeches. But that requires preparation. Rehearsing my presentation helped me balance my emotions to be a stronger communicator, and make others become interested on my work. Moreover: try to rehearse in front of a relevant audience such as fellow researchers, if you can. Its feedback might be crucial.
4. Be prepared to accept nice (and not so nice) comments.
Reminding myself that my paper is still unfinished, and that I was in DRUID Academy to learn from other colleagues, helped me being open to comments from reviewers and colleagues, including the more critical ones (these can be most insightful).
5. Be social, and enjoy
I have a tendency to get disappointed, if I don't do the job properly. I might spend, for example, a lot of time tweaking a power point presentation that I will use for the paper presentation. However, my colleagues made me realise that I also have to relax, and socialise. At the end of the day attending a conference is also about getting to know the research of other colleagues and discovering common research interests, because the exchange of ideas is a social activity. Attending a conference is about the pleasure of becoming part of a community of kindred spirits.
This personal account finishes here. Probably there is more to talk about, but I prefer to think of these five ideas as a teaser for other early stage (or senior) researchers wanting to share their experiences. So, dear reader: feel free to intervene, and comment your anecdotes. The more, the merrier!
Before you finish reading this, a self-promotional note: if you want to know more about me and other colleagues involved in the RUNIN project, click here. Thank you!